Would Abacus Help in Competitive Exams Practice?
February 2, 2023
2023-05-01 11:13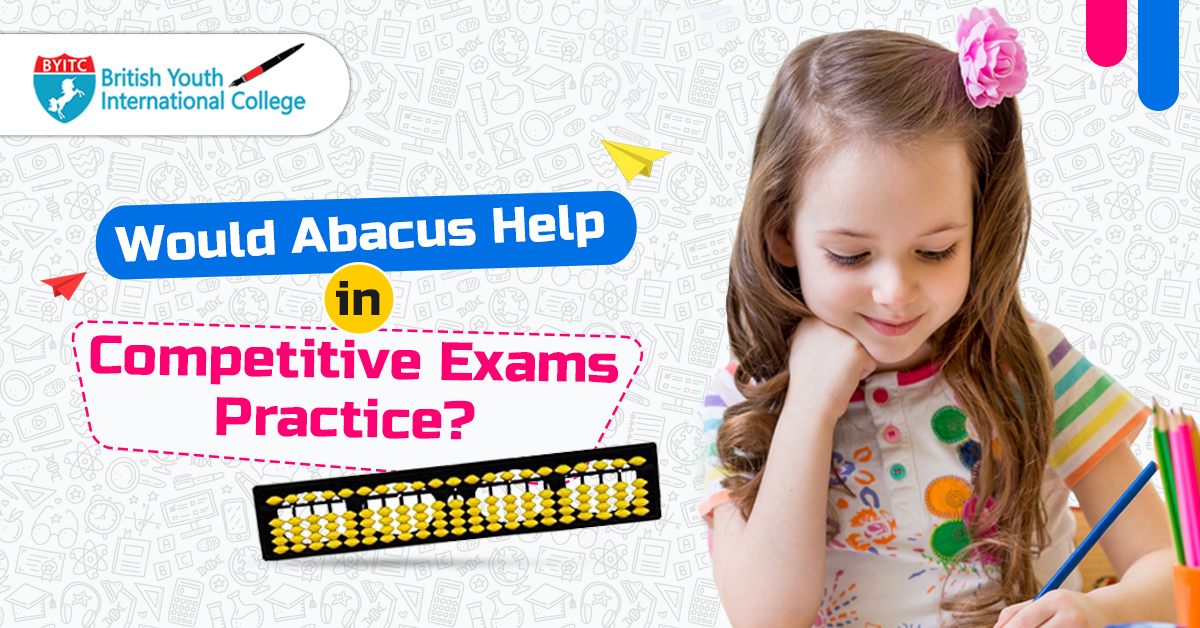 Would Abacus Help in Competitive Exams Practice?
Abacus is one of the ancient techniques for teaching mathematical operations to children. It not only enhances the mathematical abilities of kids but ensures overall growth and development. Moreover, Abacus maths can also help in competitive exams practice. Yes, you read it right! Now you must be wondering how it can be beneficial for competitive exams preparation. Here is how the Abacus proves to be helpful. Let's take a look!
Acing the competitive exams is indeed challenging. So, the focus is undoubtedly important to succeed in such exams. Learning to use the Abacus can help significantly improve the focus of individuals. Wondering how? Well, using an Abacus is a demanding task. To make the most of the tool, full concentration is required. Eventually, in the process, you will master the skill and ultimately improve your concentration level. It will enable you to stay focused on your competitive exam preparation and increase your chances of success.
Increases Speed of Calculations
The competitive exams are becoming tougher and tougher in recent times. Scoring high in competitive exams is all about timing. The faster you are able to solve the problems, the higher are your chances of answering more questions and scoring better. 
Abacus maths can help in improving your competitive exams practice by enhancing your calculation speed. As a result, you will not only be able to complete the exam within the stipulated time but also get time to cross-check your answers. The best thing is that the Abacus will allow you to increase your speed while maintaining your accuracy. 
Improves Observation Skills
Keen observation skill is another important attribute you require to excel in competitive exams. Using an Abacus can also help in improving your observational skills. While learning to perform calculations using the Abacus, you are likely to become a keen observer. This skill can put you in an advantageous position during competitive exam preparations. It enhances your ability to assess the data available in the questions and reach at the appropriate solutions. With attention to minute details, you are sure to ace the competitive exams. 
Looking for the Abacus classes near me and enrolling in them can also have a positive impact on your memory. When you learn to use an Abacus, you ultimately develop mental visualisation ability. You can easily perform mathematical calculations mentally. Using the tool will allow you to eventually hone your memory skills. As a result, it can prove to be helpful in memorising current affairs and other general knowledge facts. All of these can help you succeed in competitive exams.
Conclusion
In addition to these, joining the Abacus classes near me can even improve your analytical skills. Using an Abacus can help you master the art of doing complex calculations quickly and easily. It can enhance your competitive exam practice and increase your overall performance. Are you in search of an Abacus class to join? British Youth International College can be the best option for you. Learn Abacus maths from the experts and boost your competitive exam performance.
Related Articles
How did the Abacus change the world?
What is the Impact of Digital Game-based Abacus Learning on Students' Performance?
How can Abacus be Taught at Home?
30 Minutes Of Abacus A Day Will Power Your Kid's Brain