What is the Impact of Digital Game-based Abacus Learning on Students' Performance?
December 5, 2022
2023-11-16 15:38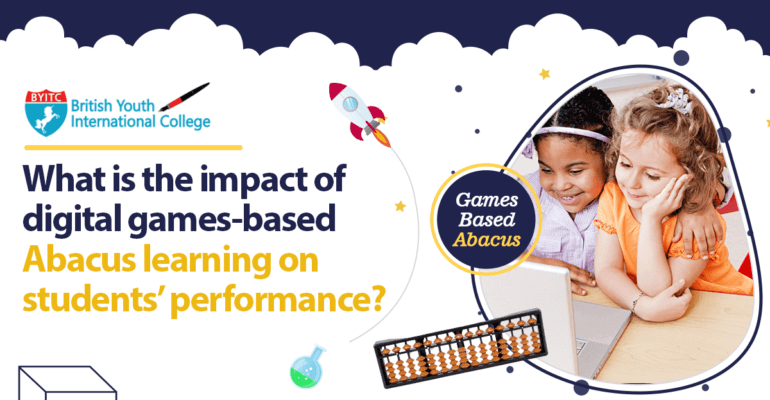 What is the Impact of Digital Game-based Abacus Learning on Students' Performance?
The modern education system incorporates cutting-edge tools and techniques to enhance learning and performance. However, students can make the most of these innovations only when they have foundational skills like mental mathematics. Students who can quickly compute mathematical solutions can demonstrate excellent quantitative performance across test situations. That is why parents want to equip their children with the relevant skill sets to hone their mathematical abilities. One of the topmost search queries from parents is "Abacus online classes near me. Why are parents so keen for their children to learn Abacus online? Let's explore how digital Abacus learning methods help students improve their performance. Learn more about Game-based Abacus Learning. 
What are Digital Game-Based Abacus Learning Methods?
A traditional abacus is a manual instrument with rods and sliding disks to simplify quick calculations. Students who master this tool excel in mental mathematics and succeed in quantitative tasks. Modern innovators have brought this technique to the digital realm with online game-based abacus learning methods. Students can learn abacus online with gamified applications which help them learn skills while having fun. Students can access digitally gamified abacus learning tools from the comfort of their homes. They can use their smartphone screens to play unique games that hone their critical thinking and quantitative skills. Research findings have shown that students who engage in digital games for Abacus learning tend to achieve higher scores than their peers who do not. This is why parents are eager to search for "Abacus online classes near me" so they can support their children garner lifelong skill sets.
Benefits of Digital Games with Abacus for Students' Performance
Students can experience the following benefits when they learn Abacus online with a gamified application.
Enhanced Ability to Solve Complex Sums

: Digital game-based Abacus tools are more enjoyable than traditional methods. Therefore, students who use these techniques are more motivated to practise the problems and play the games. Repeated exercise helps in honing their skills and improves their ability to solve complex problems.
Better Independent Learning: Digital game-based Abacus learning encourage students to explore the application for rewards. They are self-motivated to unlock new levels and improve their performance to increase game standings. As a result, they develop a better ability to learn independently.
Promotes Social Skills: Digital games allow students to interact with their peers and learn through collaboration in their region. For example, if a child signs up for online abacus classes in Vadodara, they can compare their performance with other students in other cities. They can interact and learn from each other to improve their performance.
Maximises Critical Thinking Abilities

: Digital Abacus learning games can transform the logical reasoning skills and analytical abilities of children.
Choose Digital Game-Based Abacus Learning for Your Child
Whether you are on the lookout for Abacus classes in Vadodara or some other part of India, BYITC International can come to your rescue. You no longer need to spend time Googling "Abacus online classes near me". You can enrol your child for online Abacus classes in Vadodara, Ahmedabad, and other Indian cities. BYITC has finally brought its unique service to this country and you leverage the benefits of the same. Reach out to BYITC International to help your children learn and perform better today!
Related Articles
How can Abacus be Taught at Home?
30 Minutes Of Abacus A Day Will Power Your Kid's Brain
How Learning Abacus Helps Your Child Excel In STEM?
How To Learn Abacus Maths at Home?

Game-based Abacus Learning in Mumbai | Game-based Abacus Learning in Delhi | Game-based Abacus Learning in Bangalore | Game-based Abacus Learning in Hyderabad | Game-based Abacus Maths in Ahmedabad | Game-based Abacus Maths in Chennai | Game-based Abacus Maths in Kolkata | Game-based Abacus Learning in Surat | Game-based Abacus Maths in Pune | Game-based Abacus Maths in Jaipur | Game-based Abacus in Lucknow | Game-based Abacus in Kanpur | Game-based Abacus Maths in Nagpur |