How Adaptive Learning Technologies are Changing the Landscape of Abacus Maths
May 30, 2023
2023-09-02 10:13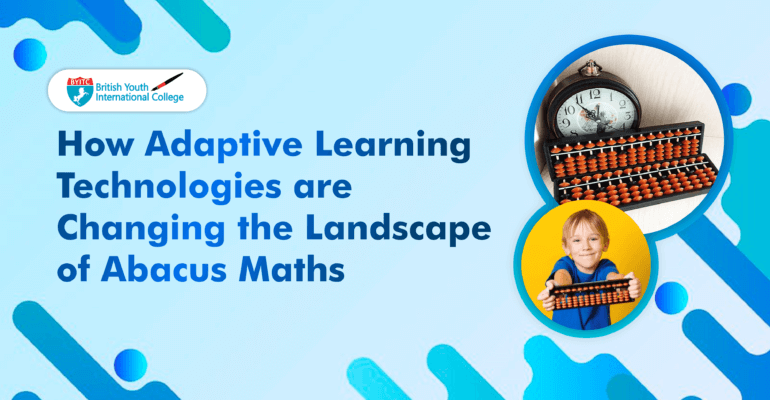 How Adaptive Learning Technologies are Changing the Landscape of Abacus Maths
In today's age of the internet, numerous technologies continue to evolve. The emergence of new adaptive learning technologieshas resulted in a significant transformation in the way children learn. Such technologies have alsoimpacted the abacus maths. In this blog, you will learn how adaptive learning technologies are transforming the landscape of abacus maths and game-based learning. Let us explore!
Abacus Maths:
Easy Access to More Information
One of the significant ways in which learning technologies are impacting the landscape of abacus maths is by increasing access to information . Previously, a few parents and students were well-aware of the benefits of learning abacus. However, today, there are several online blogs and platforms that educate people about the advent, usefulness, and advancement of the abacus.
You can read online blogs to learn the benefits of abacus maths and how it helps in improving mathematical skills. Various tutorial videos are also available to help children in learning the abacus. Moreover, you can even purchase the abacus books and expand your knowledge base better.
Comprehensive Online Abacus Courses
Adaptive learning technologies have made it possible to learn abacus online from the comfort of one's own home. Students can now enrol in abacus classes online, which help them to learn the features of the abacus and the functions of beads effectively from experts. Experienced instructors can help them with everything from doing simple addition and subtraction to solving complex arithmetic problems.
The systematic approach of online classes enables students to visualise the abacus in their minds. This not only enables them to do calculations faster but also helps in the overall development of their mental and cognitive abilities. Additionally, the flexibility of online classes allows students to learn at their own pace and revise topics as many times as they need to.
More Interactive Learning 
Traditionally, learning abacus maths was perceived as boring and uninspiring. However, with the advent of modern learning technologies, learning online and game-based abacus has become more interactive and engaging for students. It allows the students to actively participate in the online classes. Moreover, the use of game-based learning in the online abacus courses makes it more engaging for the students. It not only makes learning fun but also allows the students to visualise and retain the concepts better.
Adaptive technologies have made learning abacus more personalised for students. Online abacus courses use various methods, such as interactive games, quizzes, and assessments, to identify the strengths and weaknesses of each student. Based on this information, the online courses provide customised lessons and materials to help students improve their skills and overcome their challenges. As a result, each student can progress at their own pace, with personalised support and guidance from expert instructors.
Adaptive learning technologies allow children to learn abacus better and gain a competitive edge. Through online courses and various resources, they can master mathematical skills and solve different problems faster. As a result, they can stay ahead of their peers and advance in their careers.
Conclusion
By now, you must be well-aware of the changes brought about by the learning technologies in the abacus maths landscape. It is time to enrol your child in the online abacus classes. If you are in search of a reliable institute? If yes, BYITC is the perfect option.
Related Articles
How to Learn Abacus Maths through Games?
How does Abacus Help Children do Better in Future Career Endeavours?
How did the Abacus change the world?
What is the Impact of Digital Game-based Abacus Learning on Students' Performance?
How can Abacus be Taught at Home?
Abacus Maths Classes in Hyderabad | Abacus Mental Maths Classes in Ahmedabad | Abacus Mental Maths Classes in Chennai | Abacus Mental Maths Classes in Kolkata | Abacus Mental Maths Classes in Surat