Spoken English Classes: Can Listening to TED Talks Improve Language Skills?
March 14, 2023
2023-09-12 15:15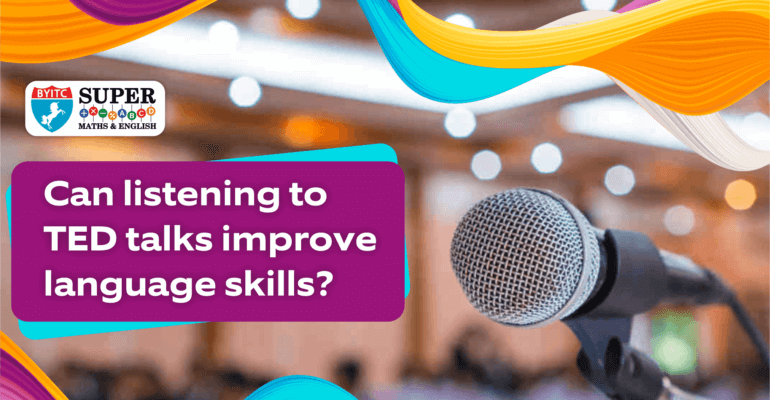 Spoken English Classes: Can Listening to TED Talks Improve Language Skills?
Learning English as a second language can be easier said than done. However, if one starts at an early age, as a child, the proficiency gradually improves. Other than attending spoken English classes for kids, there is another productive way to improve language skills. You can motivate your child to watch TED Talks. In this blog, we will explore how listening to TED Talks improve English language skills for children attending English speaking courses for beginners.
5 Ways TED Talks Improve English Language Skills
TED Talks is a popular platform for sharing ideas and inspiring stories. Not only are they informative and engaging, but they also offer a wealth of benefits for ones attending spoken English classes for kids. Let's take a look at the benefits.   
Exposure to native English speakers
One of the biggest advantages of TED Talks is that they feature a diverse range of speakers from around the world, allowing children to hear and imitate the English spoken by native speakers. This exposure to authentic English speech patterns and pronunciation helps children in English speaking courses become more confident and fluent in their English speaking skills. 
Vocabulary building
Additional to an English-speaking course for beginners, children can benefit immensely by listening to TED Talks. They cover a wide range of topics, from science and technology to arts and culture. This exposes children to new vocabulary and helps them to expand their language skills. By listening to speakers talk about complex concepts, children learn new words and phrases in context, making them more likely to remember and use them in their speaking and writing. 
Improves listening skills
Listening to TED Talks requires focused attention and comprehension, helping kids to improve their listening skills in English. Children enrolled in English speaking courses for beginners need to actively listen, understand and retain information to get the most out of a TED Talk. This is especially helpful for children who are struggling with listening and comprehension skills, as it allows them to practice and improve in a real-life setting. 
Encourages critical thinking
TED Talks are designed to inspire and challenge, encouraging kids to think critically and express their own opinions in English. Children can learn to analyze, evaluate and form opinions about different ideas and concepts presented in the talks, giving them valuable skills for academic and professional success. This is quite helpful for ones enrolled into spoken English classes for kids. 
Enhances oral communication skills
Children enrolled in spoken English classes for kids can use the language and ideas they learn from TED Talks to improve their oral communication skills, including pronunciation, phrasing, and intonation. By listening to the speakers' delivery and use of language, children can learn how to express themselves more clearly and effectively.
Wrapping Up
Listening to TED Talks can be a fun and effective way for kids and others enrolled in English-speaking courses for beginners to improve their language skills. It offers a rich and engaging learning experience that can help learners become more confident and effective communicators in English. 
However, this trick should be an added effort to enrolling in a notable institute offering ESL courses, like the BYITC. If you are seeking instructors for online English classes in Meerut and Faridabad, then check out the course offerings of BYITC and reach out for a formal consultation before enrollment.
Related Articles
Best Way to Make Creative Writing Fun in English Classes for Kids
How Long Does It Take to Learn Fluent Spoken English?
How To Be A Master Of English Conversation?
How to Improve Your English Accent and Pronunciation?
Spoken English Classes in Mumbai | Spoken English Classes in Delhi | Spoken English Classes in Bangalore | Spoken English Classes in Hyderabad | Spoken English Classes in Ahmedabad | Spoken English Classes in Chennai | Spoken English Classes in Kolkata | Spoken English Classes in Surat | Spoken English Classes in Pune