How To Be A Master Of English Conversation?
November 2, 2022
2023-11-24 14:24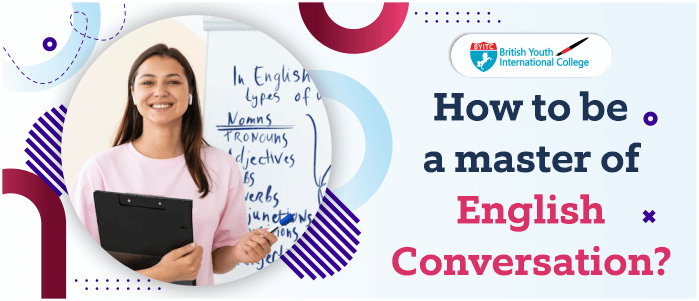 How To Be A Master Of English Conversation?
When one sets off to learn a new language, he/she aspires to one day become an exceedingly good conversationalist in that language. However, this accomplishment is easier said than done as it calls for the right aptitude fuelled by persevering efforts. A lot of English language learners would be able to relate to the aforesaid. Since English is a global link language and the most widely spoken language in the world, it finds many takers. Millions of people strive to learn this language – some for securing a high-paying job, others for self-improvement, and the rest for some other reason. To be a master of English conversation, you would need to enroll with an institute or academy that delivers promising results. A lot of people aspiring to learn English and have excellent command over the language often Google "best spoken English classes near me". However, finding the best English speaking course takes more than just a Google search. Knowing what to look for can surely make one's search easier. Therefore, if you've been searching for the best English speaking course, this guide will tell you what points to look for. 


English Conversation
Find the Best English Language Teaching Academy 
A classroom, a teacher, and some teaching aids are the bare minimum resources that every other English language teaching academy will surely have. However, such traditional methods can never suffice if one wants to attain mastery in English fluency. Therefore, to find the best institute for learning English, apart from relying on the Google search results for "best spoken English classes near me", do also explore the following points:-
Novel and innovative methods of teaching – Innovative and unconventional methods dorm a great way to master English conversational skills. Such methods include having a conversation buddy (an English speaker with whom you could converse for extended periods of time), recording your conversations and listening to the playback, practising with movies and music, etc.
Participation in public speaking events – From being a listener in public speaking events to trying your hand (or, shall we say mouth) and addressing a gathering, every bit of your participation in such events helps in ameliorating your English conversation skills.
Learning not just words but entire phrases – Merely mugging up words and their meanings in the name of building a strong vocabulary seldom helps. Therefore, an effective institute will focus on teaching learners entire phrases along with their meanings and usage.
English Conversation: Enroll in the English Language Program of this Academy
To most Indians, English comes naturally as their second language. However, to enhance one's linguistic skills in English and be a master of English conversation, one has to consider undertaking an effective English-speaking course. Best English speaking classes, Mumbai google search offers a plethora of choices. If you are searching for the finest English speaking classes in Pune or Mumbai, British Youth International College ought to be your go-to choice. Owing to the exceptionally well-qualified and seasoned English trainers and many unique and novel approaches to teaching English, BYITC is renowned for offering the best English classes in Pune.
Related Articles
How to Improve Your English Accent and Pronunciation?
How to Speak English with Fluency and Confidence?
How Can I Improve My Child's English Speaking?
Looking for Low Investment Education Franchise Opportunity?

English Language Program in Pune | English Language Program in Jaipur | English Language Program in Lucknow | English Language Program in Kanpur | English Language Program in Nagpur | English Language Program in Indore | English Language Program in Thane | English Language Program in Bhopal | English Language Program in Visakhapatnam | English Language Program in Ranchi