Building Confidence and Self-Esteem: How English Fluency Empowers Kids at BYITC
July 28, 2023
2023-09-02 10:19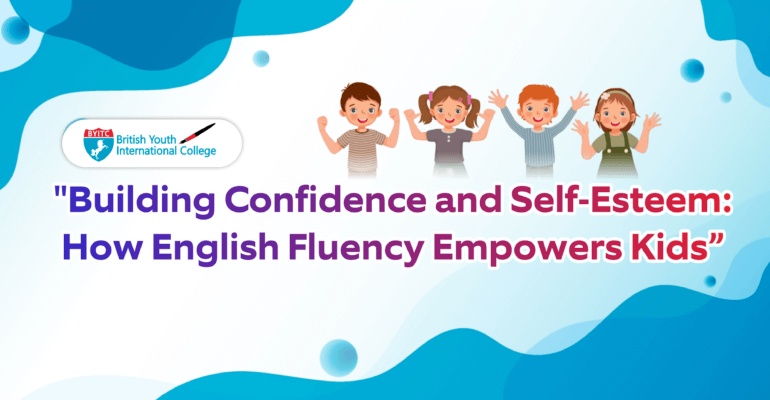 Building Confidence and Self-Esteem: How English Fluency Empowers Kids at BYITC
In the dynamic and interconnected world we live in today, English fluency has become an essential skill for young learners. Proficiency in the English language not only enables effective communication but also plays a vital role in boosting a child's confidence and self-esteem. At British Youth International College (BYITC), we recognize the importance of English fluency for children and have developed specialized spoken English classes for kids and online programs to empower our students for success.
How English Fluency Empowers Kids
Fostering a Supportive Learning Environment
At BYITC, we firmly believe that a nurturing and supportive environment is key to helping children build their confidence and self-esteem. Our spoken English classes for kids are designed to be inclusive and interactive, where students feel comfortable expressing themselves. Our experienced instructors use engaging teaching methodologies that encourage participation, ensuring every child feels valued and heard.
Building Communication Skills
Effective communication is at the heart of English fluency. BYITC's spoken English classes for kids focus on developing children's speaking, listening, and comprehension abilities. Through role-plays, group discussions, and interactive exercises, students learn to articulate their thoughts with clarity and confidence. These activities not only enhance their language skills but also instil the courage to express themselves in various social settings.
Encouraging Public Speaking and Presentations
Public speaking can be a daunting task for children, leading to anxiety and fear of judgment. However, mastering this skill can significantly boost a child's self-assurance and poise. At BYITC, we conduct regular public speaking sessions, allowing students to address their peers in a supportive environment. These experiences help children overcome stage fright, build resilience, and develop a positive self-image.
Cultivating Critical Thinking
English fluency is not just about memorizing vocabulary and grammar rules; it involves critical thinking and creative expression as well. Our spoken English classes stimulate students' minds by encouraging them to analyze various topics, share their opinions, and think outside the box. As children learn to think critically and express their ideas, their confidence in their intellectual abilities grows, fostering a sense of achievement and self-worth.
Online English Classes for Kids
Understanding the significance of technology in education, BYITC offers online English classes for kids. These virtual programs provide flexibility and accessibility for students, regardless of their geographical location. Through interactive online platforms, students engage in live sessions, interactive quizzes, and virtual debates, all while receiving personalized feedback from instructors. The convenience of online classes allows children to gain English fluency at their own pace, boosting their confidence and motivation to learn.
In a rapidly evolving global landscape, English fluency has become an indispensable skill for children. At BYITC, we understand that fostering confidence and self-esteem is equally crucial for a child's holistic development. Through our carefully crafted spoken English classes and online programs, we empower young learners to become proficient communicators, critical thinkers, and leaders in their own right. By providing a supportive environment, encouraging public speaking, and incorporating extracurricular activities, we prepare our students to navigate the world with assurance and success.
Related Articles
The Power of Spoken English Course: Mastering the Language of Global Communication
Best Way to Make Creative Writing Fun in English Classes for Kids
How Long Does It Take to Learn Fluent Spoken English?
How To Be A Master Of English Conversation?
How to Improve Your English Accent and Pronunciation?
Spoken English Classes in Eddumailaram | Spoken English Classes in Edulapuram | Spoken English Classes in Ekambara kuppam | Spoken English Classes in Eluru | Spoken English Classes in Enikapadu | Spoken English Classes in Fakirtakya | Spoken English Classes in Farrukhnagar | Spoken English Classes in Gaddiannaram | Spoken English Classes in Gajapathinagaram | Spoken English Classes in Gajularega | Spoken English Classes in Gajuvaka