Best Online Abacus Maths Franchise
February 15, 2022
2023-04-26 11:27

Abacus Maths (Mental Arithmetic) Franchise
British Youth International College believes in doing innovation in every aspect of the business. We are the first Abacus training company to introduce fully working e-learning software with integrated digital Abacus. Our state-of-the-art Abacus Web Application is the first e-Abacus system where every part of Abacus teaching is done digitally.
The Franchise partner saves lots of time with help of our Abacus Web Application. The whole teaching can be done online, the system is also capable of assigning homework and check once the student has submitted the homework. The system also generates the student progress report and shares them with the teacher and parents.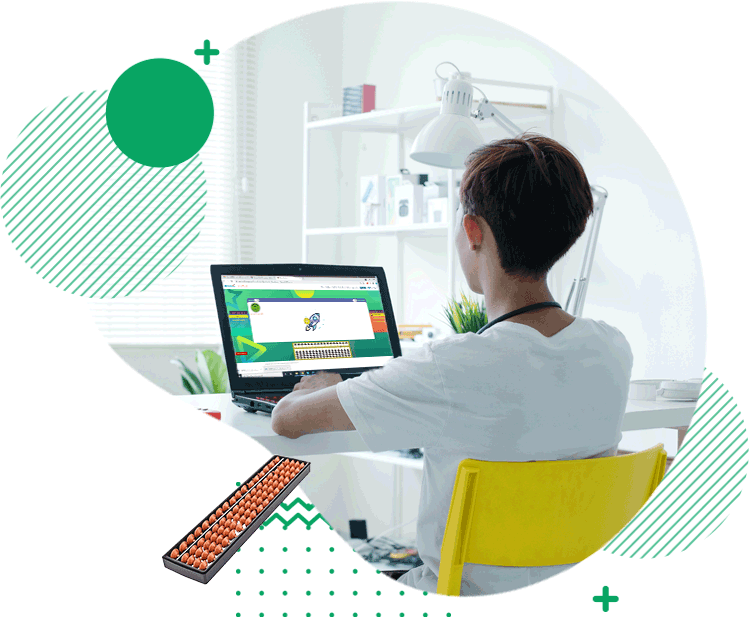 Below are some of the reasons to become a franchise with BYITC
Global Brand & Britain's No. 1
World's 1st Abacus e-learning software
Fully Automated and Digital model- from enquiry handling to teaching to support
Established and proven business model
Low investment and high profit
Part-time or Full-time involvement
Online & offline class model
24×7 support
CRM software for effective enquiry management and enrollment process
No physical classroom requirement (No rent/lease expense)
Interested to become an abacus maths franchise? Let's connect
Please provide us below the basic details, we will get back to you soon
(Put an enquiry for here)
Abacus Maths Franchise FAQ's
How does your software stand out?
Our software is an e-learning software that eliminates manual teaching work. The students or teacher need not do any manual work, the whole learning process is digital. The software provides classwork, and ensures that the child is achieving the class objectives. It also assigns the homework and checks it automatically as soon the student submits homework. It generates student learning reports every week and shares them with teacher and parents.
What is the eligibility to become an abacus maths franchise partner?
We need motivated partners who want to make a positive change in the world of education. We also look for additional attributes like education level, experience etc.
What is the investment required?
Our franchisee model is very flexible and requires a reasonable investment with good ROI. We have designed it in a way where we have minimized most expenses so that every interested person should be able to fulfil the dream of starting their own business.
How much space is required for classes and office?
The space is not a mandatory requirement. You can run online classes where classrooms are not required however, if you wish to have an enquiry office or run offline classes then you may have to arrange a space.
How much I can earn?
The earning potential is huge but it completely depends upon your vision. If you want to devote less time or want to work on a part-time basis then earnings will go less otherwise if you do it full-time there is no limit of earning. We will detail the earning potential when you will connect with us.
Do you provide Franchise globally?
We have students from almost every part of the world and we are continuously adding new partners. We are open to provide franchise for most parts of the world, barring a few. Let us know about your location and we may discuss more.
What support will be provided from BYITC to a franchise?
Franchisee success is our success and we understand it very well. As soon as the franchise agreement is signed, a Franchise Success Manager is assigned to you. We will help you set up business operations, provide support in promotions and creatives, train you and your staff on enquiry counselling and admission process, arrange training support etc. We will share our expertise with you whenever you need us
How soon can my franchise start operations?
As soon the agreement is signed, the franchise can start doing business within 7 business days. Our process is well set up and doesn't require a long wait.
What is the duration for which franchise is provided?
The franchisee is provided for a period of 3 years at first. This can be renewed.
I am a housewife and I want to invest my free time in running your franchise. Can I become a franchise?
Yes, you can become a franchise. We have part-time options as well.
We are a school, can we run this in school?
Yes, this program is very beneficial for schools. The students get an edge in terms of mental development and faster calculations. A school can also become a franchisee and run this program in the school. Research has shown that Abacus students are better at understanding new concepts faster and perform better in the school curriculum.
Will you provide marketing and social media support?
While you are new, we will support you under our Three Months Franchisee Hand Holding Program where we will help you set up marketing and social media pages, train you on social media campaigns and promotions, train you on parents counselling, train you about CRM usage etc.
How will a franchise manage its enquiries and enrollments?
– We use a CRM to manage our enquiries, counselling process and enrollments. The franchise owner will have to become a user of CRM. The CRM will ensure that all enquiries are in place and effectively counselled. The CRM makes the whole enquiry and admission process smooth and automatic.